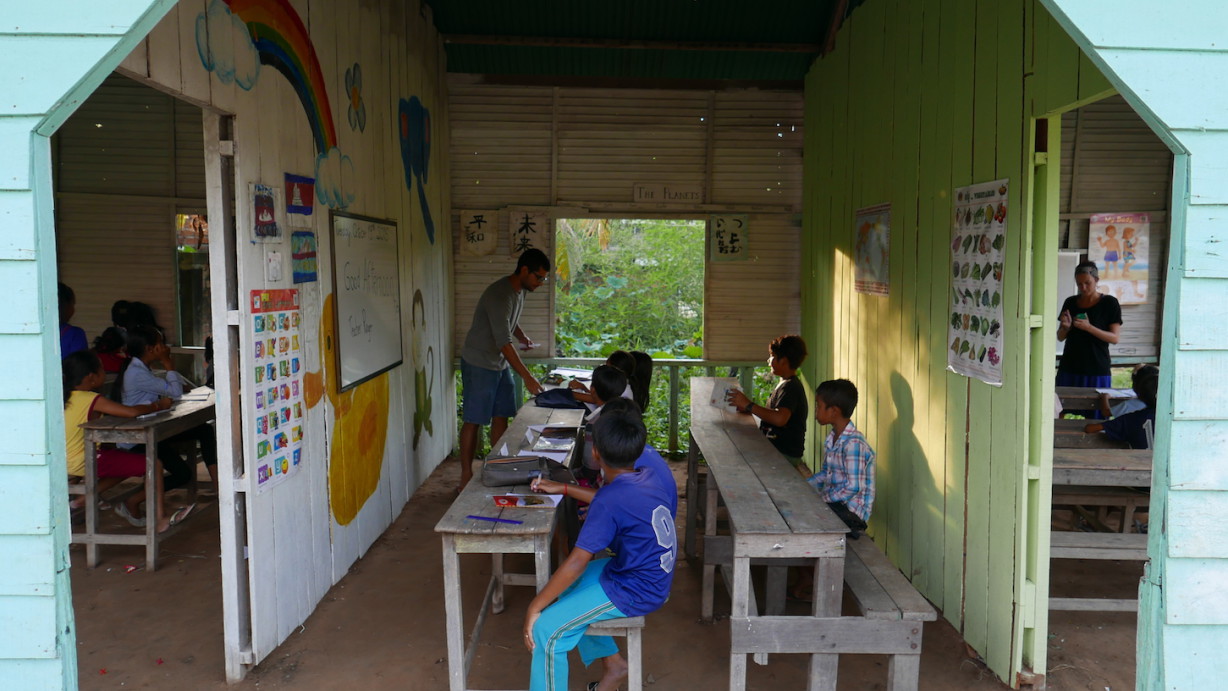 ECC School offers English classes at 3 campuses in Siem Reap Province.
Our primary campus is the ECC School campus, where the volunteers, we are fortunate enough to be able to offer a personalized education to over 150 students. There are 18 classes offered at ECC, divided into 10 levels that follow an ESL curriculum, based on the Australian ESL curriculum. The curriculum has been adapted to support future education and career paths in Cambodia with all vocabulary being relevant to Cambodia.
Upon arriving at the school, future students (and/or their parents) have an informal discussion with the Teaching Co-ordinator to determine their goals for studying English. A formal assessment of prior learning is then conducted and a decision is made with the student on the best class(es) for them. Our classes range from Kindergarten/Creche/PreSchool to Adult classes, with a focus on job skills for our adult and older teen students.
The local public school partnered with ECC in September 2016, allowing ECC to teach 6 English classes a day at the primary school. Each class has 40-50 students, aged 7-14, who follow a curriculum designed by a team of qualified Australian ESL teachers. 75% of students in Cambodia will leave school by the age 14 to seek employment. As such, the curriculum is designed to ensure that all students graduate public school with the vocabulary and grammar to gain employment in tourism and hospitality.
Our third campus is a partnership with a local Pagoda*. It is our first project outside of our immediate locality, commenced in March 2015. We currently offer one mixed-level English class a day to all students in the Triev area who wish to learn English. The are currently 10 students aged 7-adult. Due to the success of Pagoda, we hope to expand to a fourth campus, located at the Floating Village in late 2017. (HYPERLINK TO PROJECTS PAGE)
*A Pagoda is a community space, centered around a temple. Members of the comunity can go to a Pagoda to pray, leave offerings, teach, study and relax.